The latest update of Global Public Blockchain Technology Assessment Index (GPBTAI) by the China's Center for Information and Industry Development (CCID), under the Country's Ministry of Industry and Information Technology, was published On December 22; EOS maintains its no. 1 ranking, as the study reiterates the token as the best cryptocurrency within the global market cap.
The official press release states "EOS topped the list with a total score of 156.1 points". EOS has managed to remain unbeatable for months on the listing, and this time, there has been a considerable improvement compared to previous scores.
While the methodology used to develop the score is not disclosed, it is known that the final points are an aggregation of 3 ranks that evaluate – the technological aspect, the potential for application in everyday life and the level of innovation that each development has.
Not Perfect Though
Compared to the previous month's report, there have been some interesting changes. While Ethereum continues its second position, Bitcoin is ranked 18th:
"EOS topped the list with a total score of 156.1 points. Ethereum ranked second, with an assessment index of 136.4. The two indexes are still the lead at the very top. GXchain replaced BitShares in third place with a score of 117.5 in this assessment, while BitShare fell by five in the current evaluation, ranking eighth. Komodo, Ontology, NULS, Nebulas, BitShares, NEO, and Steem shared the fourth through 10th spots. Bitcoin evaluation index stayed in the middle of the list with a score of 96.1, ranking 18th."
The tested cryptocurrencies were also evaluated for the most popular consensus algorithms, showing that the use of Delegated Proof of Stake is on the rise and is employed by 6 of the 10 top blockchains. Notably, the individual results for each area illustrate that no single blockchain succeeds in "everything". For instance:
In Technology, the top five are EOS, BitShare, Steem, GXChain, and Ontology
Full Rank available below: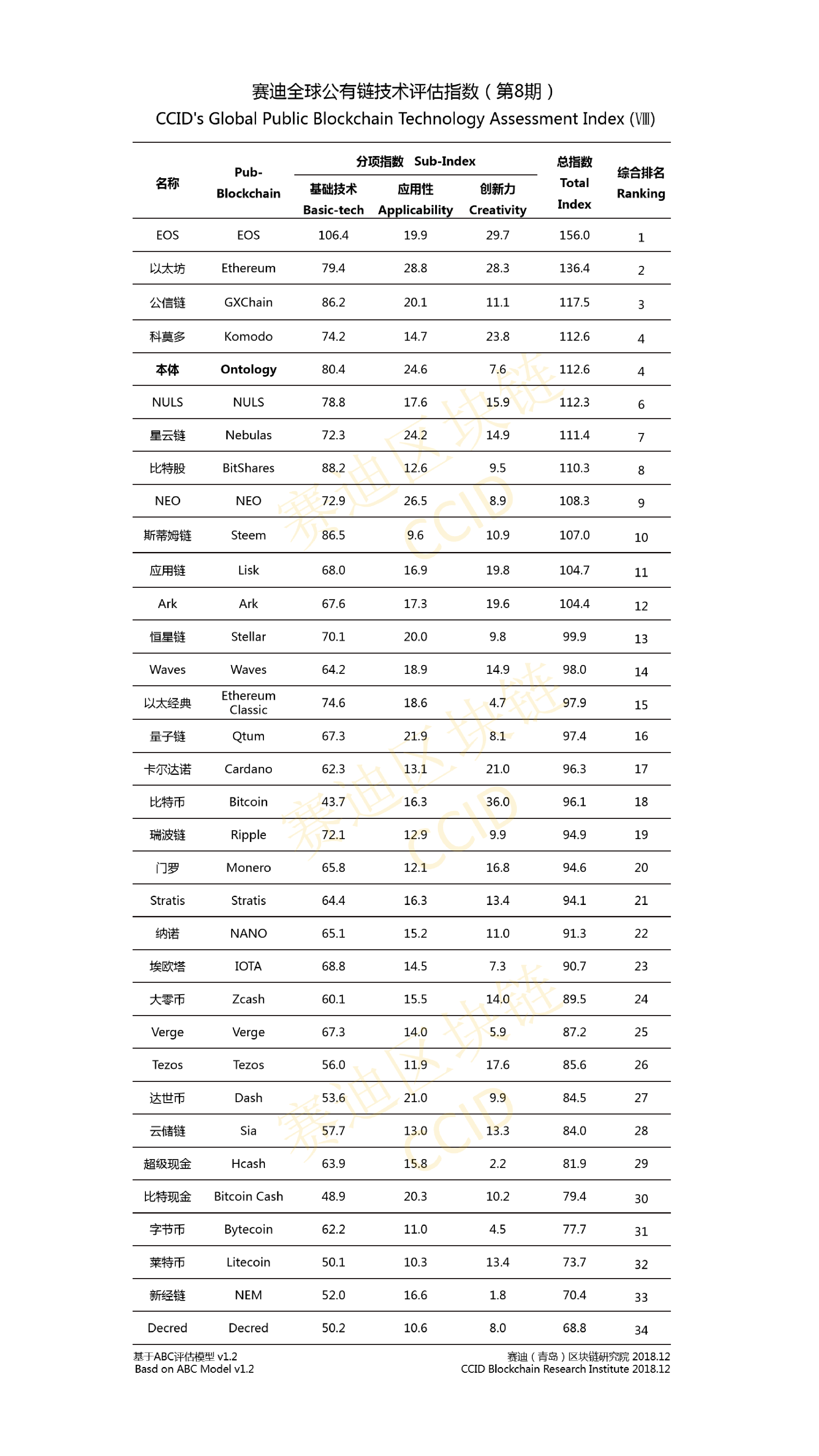 Also read: UAE is looking to join the list of leading destinations for Blockchain-related businesses in 2019 due to promising new crypto legislation
Source: https://kryptomoney.com/eos-remains-unbeaten-on-chinas-latest-ccid-rank/